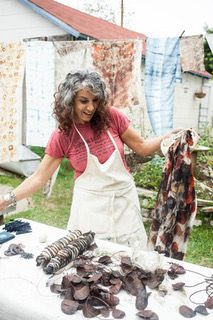 LOCA's fall adult workshops are carefully planned with safety as a priority. Held outdoors in a lovely Laguna Beach garden setting, participants will be required to wear masks and adhere to social distancing standards. Class size is limited, and LOCA members have priority registration.
Registration:
Classes are Fridays 1pm-4pm, cost is $50 for both sessions. Non LOCA members – $100 for both sessions. An additional materials fee may apply. The location will be announced upon registration.
To enroll email LOCA@locaarts.org.
Eco-Print for the Holidays
Create your own table linens just in time for the holidays. Learn the art of eco print where Nature and Alchemy are the fountain of inspiration!
Eco-printing is a technique where plants, leaves and flowers leave their shapes, color, and marks on fabric. Plant material bundled inside of cloth is steamed or boiled to release the dye found naturally inside the plant, creating a contact print in the shape of the leaf or flower used.
Each guest will design their own set of napkins and a tea towel to take home as a gift or keep for oneself.
This art experience is being offered in the home/studio garden of local artist Reem Khalil in the heart of Laguna village.
This is a two session class held on two consecutive FRIDAYS.