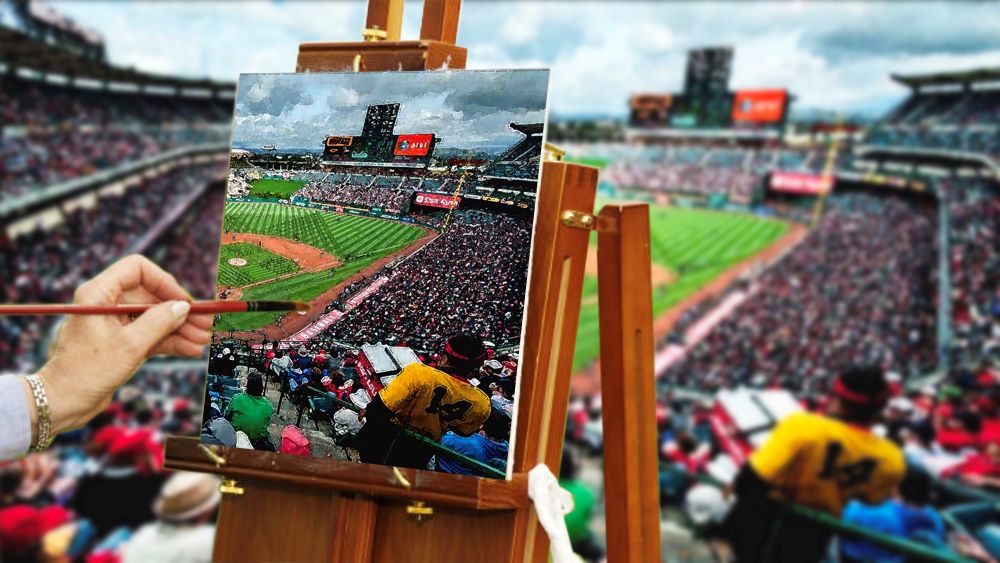 LOCA Arts Education is partnering with the Los Angeles Angels and the Angels Baseball Foundation in providing live painting demonstrations at Angels Stadium. Fans will enjoy watching artists paint during the game on Wednesday July 19, as the Angels host the New York Yankees. Game time is 4:07pm.
The artists, positioned at locations throughout the stadium are Fernando Micheli, and Hugo Rivera.  Micheli, a plein air and landscape artist, will be painting a scene of the stadium in all its glory, and Rivera, a muralist, will be painting a figure on a dramatic 5 foot canvas, in his expressionist wet-on-wet painting style.  Micheli is an exhibitor at the Sawdust Festival, and Rivera owns a gallery in Laguna Beach.
"We are excited to partner with LOCA as they join us at Angels Stadium to capture the ballpark experience through art," said Angels Baseball Foundation President Dennis Kuhl. These one-of-a-kind paintings will be available for fans to purchase with proceeds to benefit both LOCA and Angels Baseball Foundation.
The finished works will be offered to the public through an auction presented by the Angels in mid-August. Proceeds will support the Angels Baseball Foundation, LOCA Arts Education, and the artists. Visit www.Angels.com/tickets.